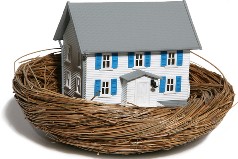 Equity Home Inspections is locally owned and operated. Professional home inspection is my passion and we are committed to making this business an asset to each of our clients and our community. My clients can be certain of my allegiance and concern for their best interests because I am committed to working solely on their behalf. I act fairly and impartially to provide the most informative, unbiased, objective and honest report available.
OWNER / PRESIDENT RYAN GOEGLEIN IS:

b AHIT Certified Home Inspector, Member # 010784
b 20 Years experience in residential restoration, construction and home inspections.
b 14 Years full-time performing Home Inspections.
b Over 4,000 Home Inspections performed.
Over 95% of our clients are referred to us by their friends, family or real estate agents.
b Customer Satisfaction. In 14 years, each and every customer we served has been delighted with our service! 100% If you are not completely satisfied after the completion of an inspection, you pay nothing.

b Free Infrared "thermography" Infrared "thermography" is included with each inspection. Infrared is used to evaluate air flow and for general defect recognition purposes. The infrared camera sees temperature which helps to locate active leaks, missing insulation and overheated wiring.
BE ASSURED OF OUR GOAL

We do not solicit or perform any of the work which we recommend. We are not affiliated with any contractor, nor give or receive any associated referral fees. By doing this, you can be confident that our recommendations are objective and unbiased. We uphold the reputation and integrity of our profession and avoid association with any enterprise of questionable character or apparent conflict of interests.

Inspect your inspector. Everybody's first instinct when shopping is to find the least expensive. This could prove risky given the costly consequences of undisclosed defects, as you get what you pay for. In Colorado, Home Inspectors are not licensed. There is no standard for education, continued education, training, experience or code of ethics. Unfortunately for the consumer, new and or under experienced home inspectors typically attract business with lower prices.
The professional home inspection includes evaluation and reporting of the:
Structure
Foundation
Exterior
Grading
Siding
Driveway
Patio
Roof
Downspouts
Attic
Insulation
Ventilation
Garage
Basement
Crawlspace
Plumbing
Bathrooms
Electrical panel
Electrical Outlets and Wiring
Furnace
Air Conditioning
Water Heater
Interior Components
Fireplace
Floors
Doors
Windows
Combustible Gas Testing
Carbon Monoxide Testing
Major Appliances