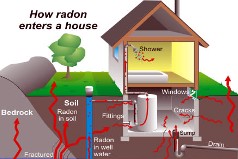 The Surgeon General and the Environmental Protection Agency (E.P.A.) recommend testing for radon gas in homes.
Radon is an invisible and odorless radioactive gas which occurs naturally from decaying uranium underneath the earth's surface. Radon can enter the home through the water supply; however the radon entering your home by soil is a much larger risk. Although you cannot see, smell, or taste radon, it is present and may be a problem in the home. Radon gas rises through the soil and seeps through cracks, holes, and drain pipes in the foundation or basements of buildings. Radon gas can be found all over the United States.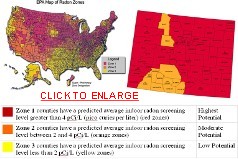 Radon gas contains radioactive particles which get trapped in your lungs every time you take a breath. As these particles break down, they release bursts of radiation that damage or destroy lung tissue and cause lung cancer, and long-term exposure may even cause death. Want to learn more? Please visit the encyclopedic database provided by the E.P.A.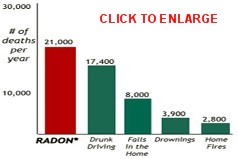 Radon gas testing costs $125 with the home inspection. Our computerized continuous radon gas monitors are used every time to provide you with the most reliable and tamper proof Radon Test available today. Results are available immediately after the minimal 48 hours testing period. If radon gas levels are found to be unsafe, mitigation is recommended to "fix the home." The cost of fixing a home generally ranges from $800 to $2500 (with an average cost of $1200).
Homes that have a radon reduction system already installed require occasional monitoring and part replacements in additional to radon gas re-testing every two years. It is not critical that radon gas testing is performed prior to your ownership of the home. During real estate transactions is the most convenient time to have the home tested and repaired (if necessary). Do-it-yourself radon tests kits are less expensive; however they take longer to get test results. Furthermore, these radon kits are not as accurate or dependable as the continuous monitors that we provide.
The professional home inspection includes evaluation and reporting of the:
Structure
Foundation
Exterior
Grading
Siding
Driveway
Patio
Roof
Downspouts
Attic
Insulation
Ventilation
Garage
Basement
Crawlspace
Plumbing
Bathrooms
Electrical panel
Electrical Outlets and Wiring
Furnace
Air Conditioning
Water Heater
Interior Components
Fireplace
Floors
Doors
Windows
Combustible Gas Testing
Carbon Monoxide Testing
Major Appliances